Original Mike Malone Tattoo Flash up on ebay!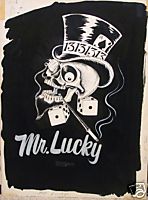 Original tattoo flash
by the famous Mike Malone up for auction! Mike Malones famous tattoo design mr. luck is up for auction one in a once in a lifetime chance to get this great piece of tattoo history at a bargin price.